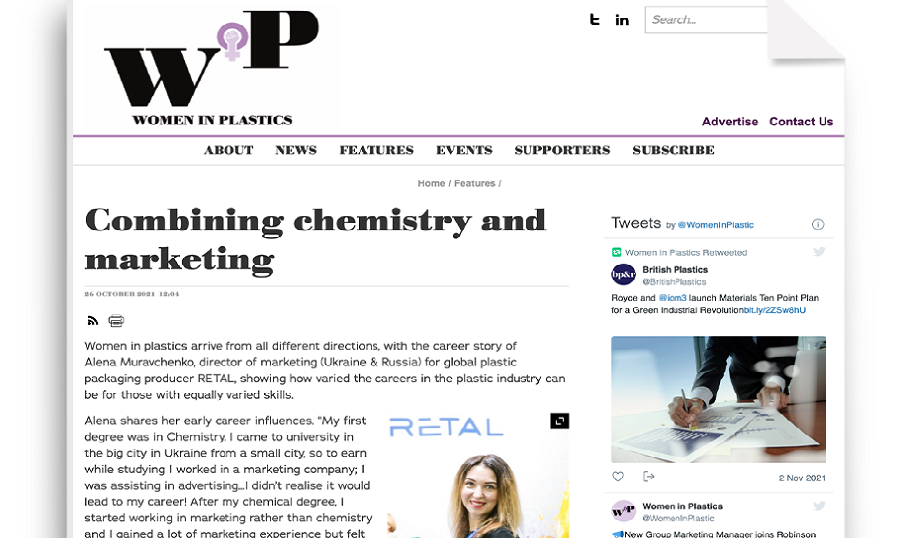 Women in plastics arrive from all different directions, with the career story of Alena Muravchenko, director of marketing (Ukraine & Russia) for global plastic packaging producer RETAL, showing how varied the careers in the plastic industry can be for those with equally varied skills. 
Alena shares her early career influences. "My first degree was in Chemistry. I came to university in the big city in Ukraine from a small city, so to earn while studying I worked in a marketing company; I was assisting in advertising...I didn't realise it would lead to my career! After my chemical degree, I started working in marketing rather than chemistry and I gained a lot of marketing experience but felt that I wanted to have a proper education in marketing too, so I joined an MBA programme in strategic marketing." 
Alena's impressive career development and warm character shows why she is so ideally suited to the key role of director of marketing, as her knowledge of the plastic packaging industry comes from two opposite directions – chemicals and marketing. This unusual skillset, coupled with her approachability, is why Alena continues to flourish at RETAL, having joined in 2014 as head of marketing.  
Read full article online at Women in Plastics
Read / download in PDF