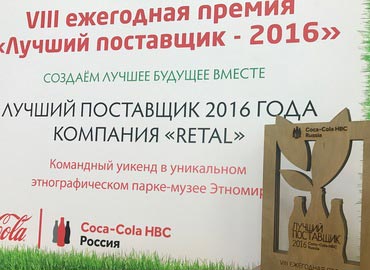 The annual, ninth competition among suppliers, held by COCA-COLA HBC RUSSIA in Moscow museum park Ethnomir on April 18, has become most ambitious since the establishment of the award. The main objective of the competition was to encourage and support best COCA-COLA partners. The winner of 2016 has been chosen among more than 5000 companies. In addition to the traditional selection criteria – the highest quality of delivered products and services – the principles of sustainable development of partners in business, as well as the efficiency and innovative component in their work have been adopted. As a result of such an acute and complex evaluation, RETAL company has acquired the grand prix for "Best Supplier-2016".
The main prize from the No.1 worldwide brand in the market of carbonated beverages has become a fair result of a long-term cooperation between RETAL and COCA-COLA.
The first steps to achieving the Grand Prix in 2016 have been already made three years ago, when RETAL has launched its strategical task for reducing the weight of primary packaging. Owing to such work during 2013-2016 and a subsequent weight and preform thickness reduction, more than 4600 tons of PET-granulate has been saved, and the share of secondary raw materials in packaging increased almost 6-fold. This has made the business of both companies more advanced, environmentally friendly and responsible.