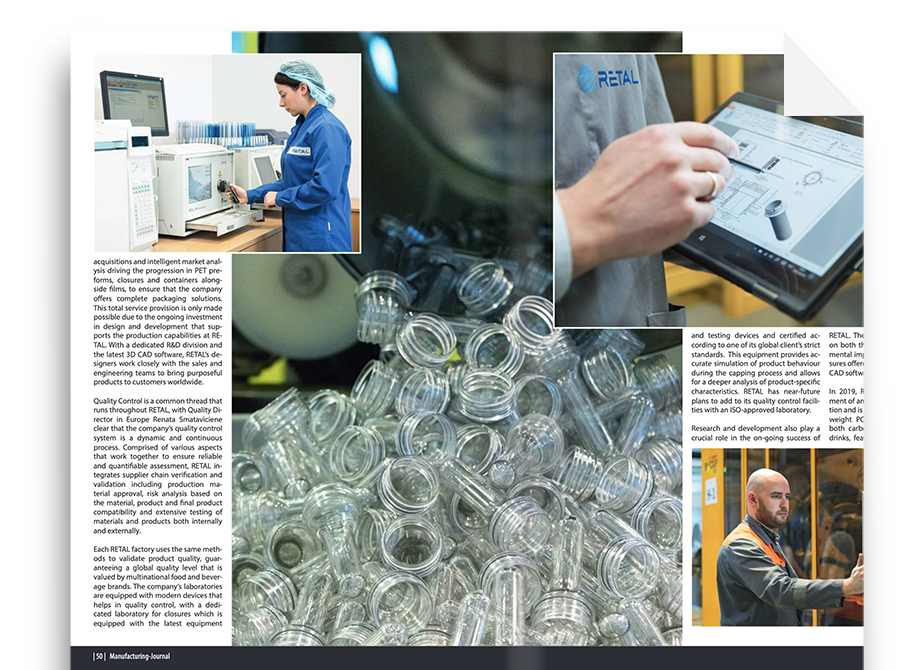 Global plastic packaging solutions manufacturer RETAL works closely with multinational food and beverage brands, creating responsible, reliable products that support CSR goals. Founded in 1994, RETAL has grown steadily and strategically by staying close to its global brand customers and steadfastly answering their needs, serving customers in over 60 countries worldwide.   
In the early years, RETAL started by offering logistics services with a focus on importing packaging materials, which rapidly developed into the company producing its own PET preforms in-house following extensive investment and employing technical experts. Initial production meant preforms and one- and two-component polymer closures were manufactured, with additional capabilities allowing the portfolio to grow as investment technological developments continued.  
From early 2001, the global growth of RETAL saw regional production sites actively established and opened in Eastern Europe, continually building on the company's positive reputation for creating and manufacturing plastic packaging for household name food and beverage brands across the region. Acquisitions of complementary businesses in Lithuania, the Czech Republic, France, Italy and Spain, alongside the founding of purpose-built facilities in Bulgaria and an APET film plant in Lithuania meant that RETAL served much of Europe by 2007. 
Since 2007, RETAL's President Anatoly Martynov brought further sites, capabilities and a renewed focus on sustainability, with facilities acquired in Russia, specifically for BoPET film. Between 2012 and 2016, new plants and acquisitions continued apace, with state-of-the-art locations acquired or established in Cyprus, Italy, and the US.