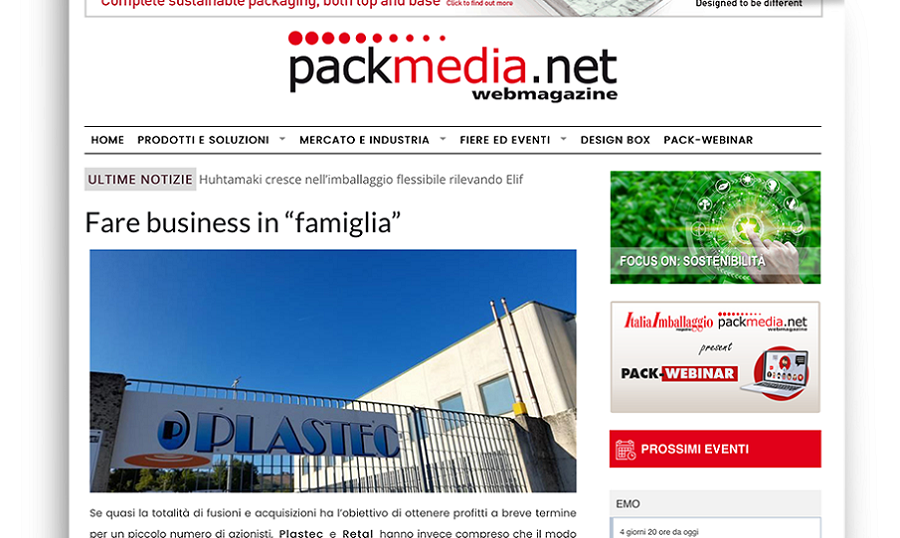 While mergers and acquisitions can have the reputation of asset stripping for short-term gain for a small number of shareholders, Plastec and RETAL have realised that the most beneficial way for generating profit is to maintain the same business model while acquiring expertise and valuing people as well as property and products.
Acquired in 2016 by the well-known packaging manufacturer RETAL, Plastec is an Italian company based in Ascoli Piceno that produces PET preforms and bottles for the food, cosmetics, detergent and pharmaceutical industries. Established in 2006 by Giampaolo Gatti and Vincenzo Pizi, the company has developed over the years while maintaining a friendly, family-like environment.
"There are so many of us here that have grown up together. Many children of friends and colleagues of my dad and Vincenzo have worked here and still work here," explains Noemi Gatti, Giampaolo's daughter and the finance controller at Plastec. "There's a true sense of family because we all rely on each other and have seen the business grow from nothing."
"We can fix equipment but we can't fix people," adds Gatti, stressing the importance of investing in human resources. "People being happy, motivated and rewarded at work is the most important thing. Loyalty goes two ways."
RETAL appreciated this philosophy and, when finalising the acquisition, the board of directors agreed that Plastec must continue to run as it always had, but with the additional reach and support of a global group. This also brings numerous benefits in terms of business. RETAL already owned a facility in Italy and was keen to expand its local capability to better serve its multinational brand owner customers in the food and beverage industries.
Under the leadership of Renzo Imperia, then general manager at RETAL Italia, Plastec continued to flourish with the day-to-day management of Giampaolo and Vincenzo until 2021, when Renzo's move towards retirement saw Giampaolo being named as general manager of RETAL Plastec.
Read online at PackMedia network
Read / download in PDF