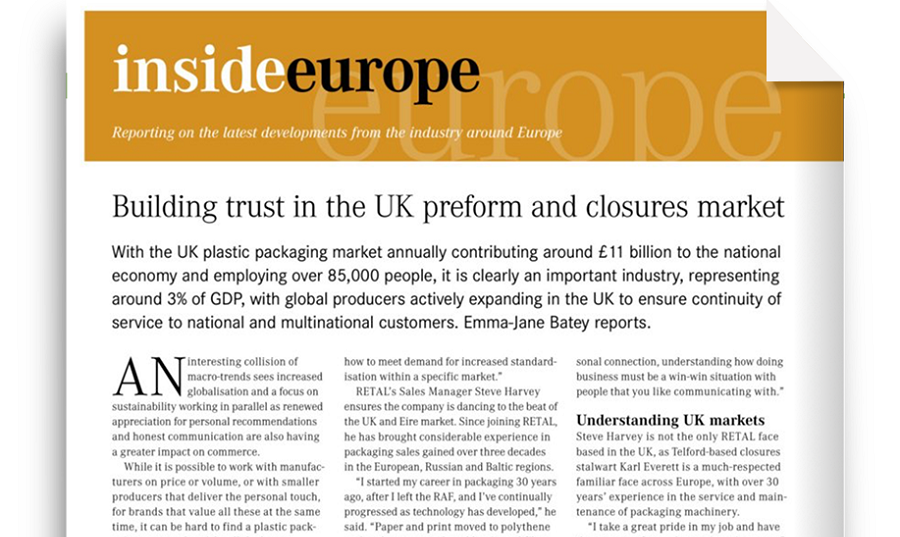 With the UK plastic packaging market annually contributing around £11bn [1] to the national economy and employing over 85,000 people, it is clearly an important
industry, representing around 3% of GDP. Global plastic packaging producer RETAL has recently made the strategic decision to expand its salesforce in the UK and Eire, bringing in experienced negotiator Steve Harvey to help navigate its journey. Emma-Jane Batey reports.
An interesting collision of macro-trends sees increased globalisation and a focus on sustainability at the same time as a renewed appreciation for personal recommendations and honest communication. While it is possible to work with manufacturers on price or volume, or with smaller producers that deliver the personal touch, global brands and smaller brands that think big want it all. For brands that value all these at the same time, it can be hard to find a plastic packaging partner that ticks all the boxes.
RETAL serves customers in over 60 countries thanks to 19 production facilities worldwide and it has recently made the decision to expand its sales network to include the UK and Eire. Logistically-close production means that standard and custom preforms and closures can be delivered in volume in a matter of days, with just in time service and a dedicated single point of contact. RETAL Lithuania Sales Director Rimvydas Bazinys shares how the company plans to utilise its close contacts and ability to deliver agile solutions to food and beverage brands in the UK. "For many years we focused on each specific geographical area or a special performance such as multilayer properties, but as we have been increasingly working with global players and successfully delivering their orders to locations where we do not have production facilities, we realised that it is our portfolio, our people, and our production capabilities that matter the most."
Rimvydas notes that 'we can quickly deliver from RETAL plants to the UK; from Lithuania we can deliver to the UK in just four or five days', so clearly the physical location of the production site is not the most crucial element of a mutually-beneficial situation. He continues, "Closures in particular are especially small, light and easy to transport, and we work with a large number of global food and beverage brands to create closures for products including juice, carbonated drinks, mineral water and milk. Our proven experience of working closely with global brands across local, national and international markets means we know how to respond to demand for increased standardisation within a specific market."
Read online at Inside Europe (page 6)
Read / download full-text article in PDF