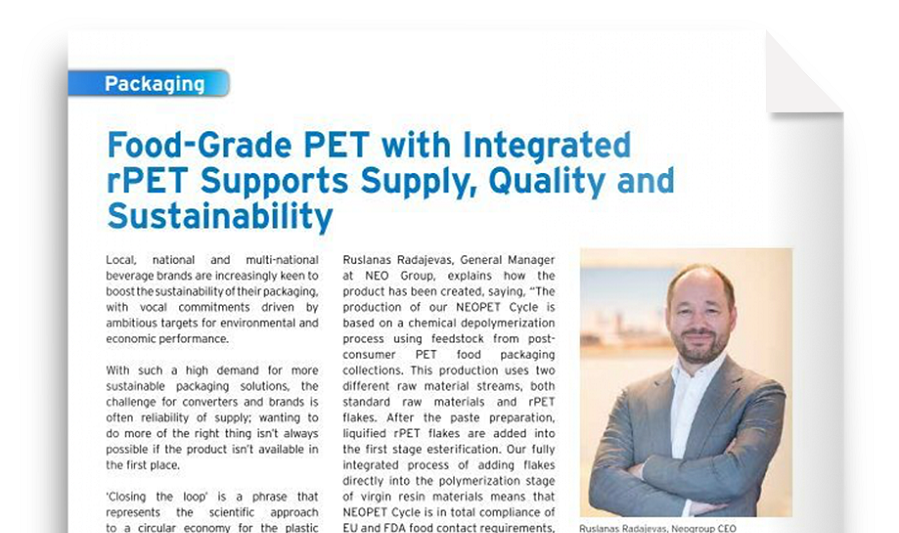 Local, national and multi-national beverage brands are increasingly keen to boost the sustainability of their packaging, with vocal commitments driven by ambitious targets for environmental and economic performance.
With such a high demand for more sustainable packaging solutions, the challenge for converters and brands is often reliability of supply; wanting to do more of the right thing isn't always possible if the product isn't available in the first place.
'Closing the loop' is a phrase that represents the scientific approach to a circular economy for the plastic packaging industry, with the focus on making sure sustainable packaging solutions are reliably available by cutting waste , efficiently recycling, and effectively reintegrating post-consumer waste, particularly from single-use plastics.
Lithuania-based UAB NEO Group, manufacturer of polyethylene terephthalate (PET) resins, is one of Europe's leading producers of high-quality PET resins and polyols, and part of the multi-national plastic packaging producing group's RETAL Industries Ltd. NEO Group's most recent new product development sees it harness many years of expertise in glycolysis processes with the production of aromatic polyester polyols to create a future-focused solution to this closing the loop conundrum.
Read the article online at Drinkworld Technology (page 40)
Read / download the article in PDF.