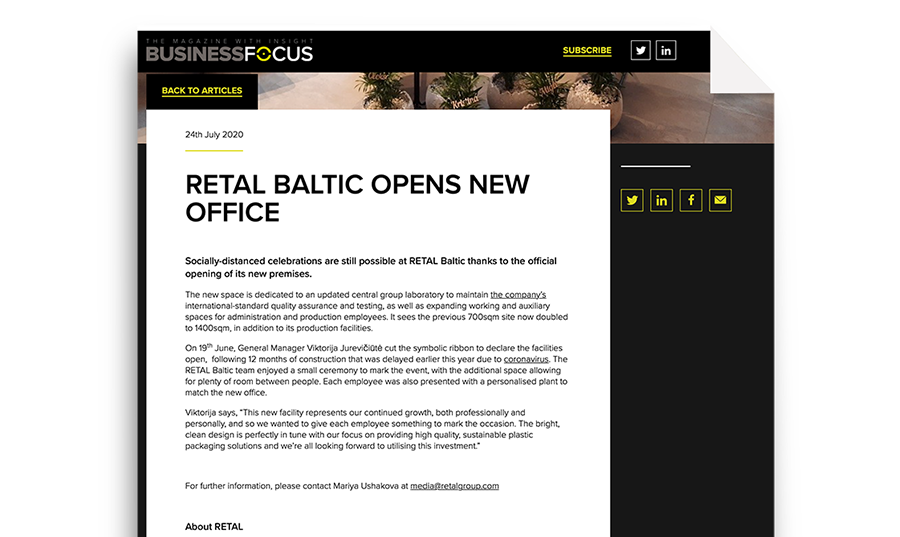 Socially-distanced celebrations are still possible at RETAL Baltic thanks to the official opening of its new premises.
The new space is dedicated to an updated central group laboratory to maintain the company's international-standard quality assurance and testing, as well as expanding working and auxiliary spaces for administration and production employees. It sees the previous 700sqm site now doubled to 1400sqm, in addition to its production facilities.
On 19th June, General Manager Viktorija Jurevičiūtė cut the symbolic ribbon to declare the facilities open, following 12 months of construction that was delayed earlier this year due to coronavirus. The RETAL Baltic team enjoyed a small ceremony to mark the event, with the additional space allowing for plenty of room between people. Each employee was also presented with a personalised plant to match the new office.
Viktorija says, "This new facility represents our continued growth, both professionally and personally, and so we wanted to give each employee something to mark the occasion. The bright, clean design is perfectly in tune with our focus on providing high quality, sustainable plastic packaging solutions and we're all looking forward to utilising this investment."