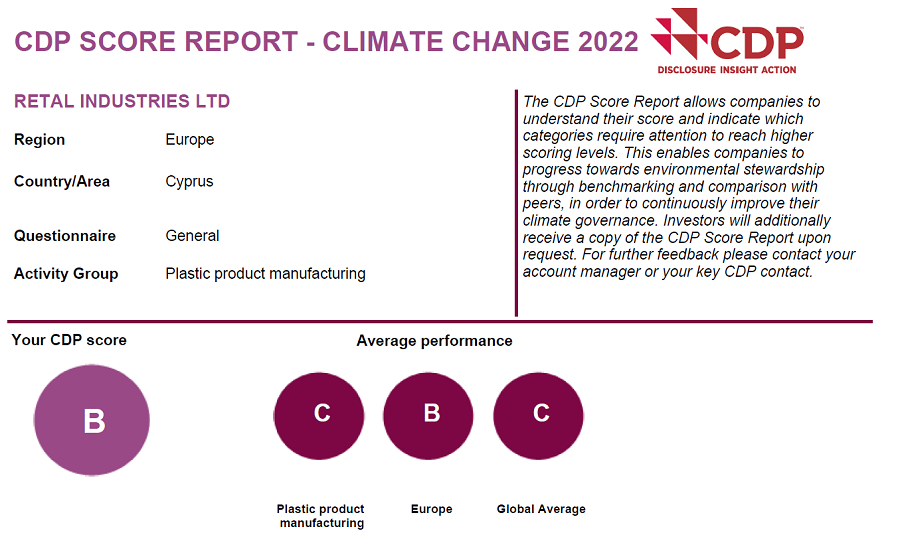 RETAL is pleased to report that it has maintained its leadership in climate change management with a CDP B score for the 4th year in a row, placing the company above the average C score for its sector - Plastic Products Manufacturing. 
RETAL Sustainability Director Emmanuel Duffaut notes how this B score represents progress rather than maintenance in real terms, as the ever-more demanding CDP evaluation process requires continuous action and improvement to keep the same score year on year.  
Duffaut says, "We are confident we will reach our A score goal soon, through the validation of our near-term science-based targets in 2023 and performing a climate change risk assessment according to TCFD methodology which will, respectively, improve both our mitigation action and our governance."   
Duffaut adds, "This latest B score rewards our strong climate change stewardship and investment in mitigation; we have increased our use of renewable electricity once again. RETAL's leadership position in climate change management demonstrates our appetite to mitigate our most material environmental impact but also to meet the strong expectation of our global household brand customers and other stakeholders in this field." 
For further information, please contact Maria Jarrar at media@retalgroup.com 
Follow RETAL on LinkedIn here.