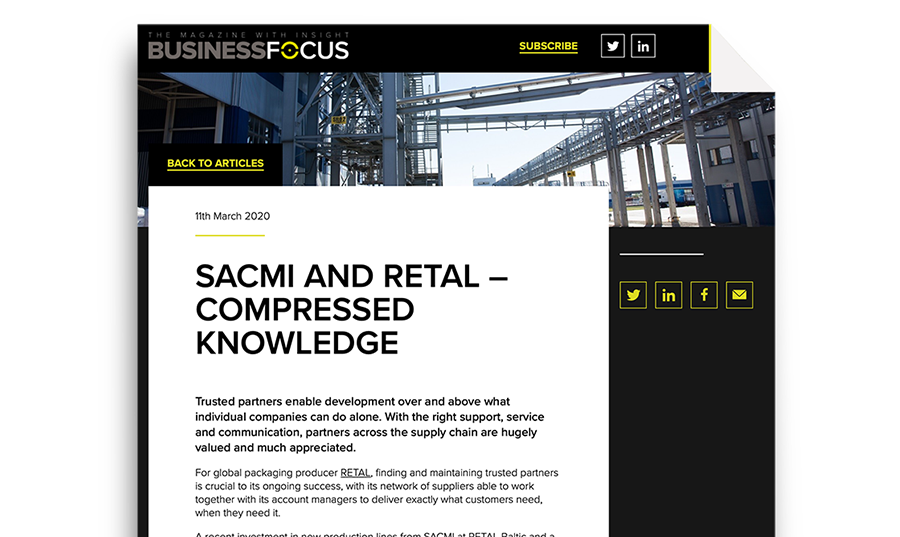 Trusted partners enable development over and above what individual companies can do alone. With the right support, service and communication, partners across the supply chain are hugely valued and much appreciated.
For global packaging producer RETAL, finding and maintaining trusted partners is crucial to its ongoing success, with its network of suppliers able to work together with its account managers to deliver exactly what customers need, when they need it.
A recent investment in new production lines from SACMI at RETAL Baltic and a sister company is the latest development in an evolving, long-standing relationship between RETAL and the respected machinery supplier.
SACMI is an international leader in industrial plant engineering, offering a varied portfolio of machines and complete plants for industries including packaging. Headquartered in Imola, Italy, and with over 4500 employees at 80 sites worldwide, SACMI prides itself on 'putting customer satisfaction first'.
That promise is evident in the cooperation between RETAL and SACMI. As a supplier of machines for the manufacture of plastic closures, SACMI was aware of RETAL's positive reputation and portfolio of preforms, closures and films, initially supplying the company with two lines in 1999.
SACMI key account manager Riccardo Rubini explains, "At that time, RETAL was only using injection technology and SACMI installed only compression technology. There were a number of challenges in terms of performance and maintenance of lines, so it's fair to say that RETAL was not properly advised; it was a 50/50 issue. Although I wasn't part of the SACMI team that worked with RETAL then, I've been determined to rectify the issue and show how our production lines can reliably deliver exactly what the company needs in terms of closures."
Read the full version in Business Focus