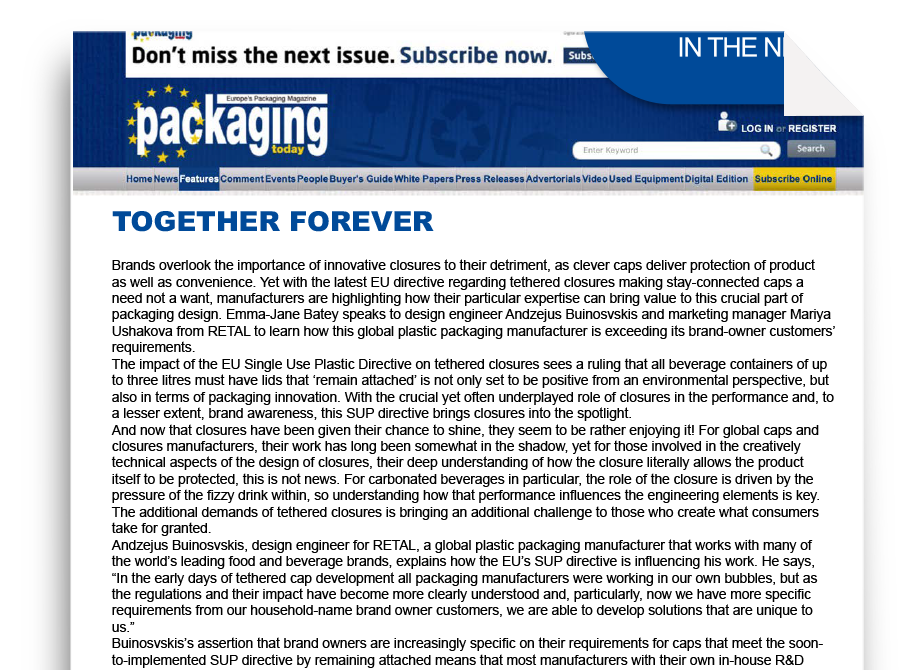 Brands overlook the importance of innovative closures to their detriment, as clever caps deliver protection of product as well as convenience. Yet with the latest EU directive regarding tethered closures making stay-connected caps a need not a want, manufacturers are highlighting how their particular expertise can bring value to this crucial part of packaging design. Emma-Jane Batey speaks to design engineer Andzejus Buinosvskis and marketing manager Mariya Ushakova from RETAL to learn how this global plastic packaging manufacturer is exceeding its brand-owner customers' requirements.
The impact of the EU Single Use Plastic Directive on tethered closures sees a ruling that all beverage containers of up to three litres must have lids that 'remain attached' is not only set to be positive from an environmental perspective, but also in terms of packaging innovation.
With the crucial yet often underplayed role of closures in the performance and, to a lesser extent, brand awareness, this SUP directive brings closures into the spotlight. And now that closures have been given their chance to shine, they seem to be rather enjoying it! For global caps and closures manufacturers, their work has long been somewhat in the shadow, yet for those involved in the creatively technical aspects of the design of closures, their deep understanding of how the closure literally allows the product itself to be protected, this is not news. For carbonated beverages in particular, the role of the closure is driven by the pressure of the fizzy drink within, so understanding how that performance influences the engineering elements is key. The additional demands of tethered closures is bringing an additional challenge to those who create what consumers take for granted.
Andzejus Buinosvskis, design engineer for RETAL, a global plastic packaging manufacturer that works with many of the world's leading food and beverage brands, explains how the EU's SUP directive is influencing his work. He says, "In the early days of tethered cap development all packaging manufacturers were working in our own bubbles, but as the regulations and their impact have become more clearly understood and, particularly, now we have more specific requirements from our household-name brand owner customers, we are able to develop solutions that are unique to us."
Read full article online on Packaging Today