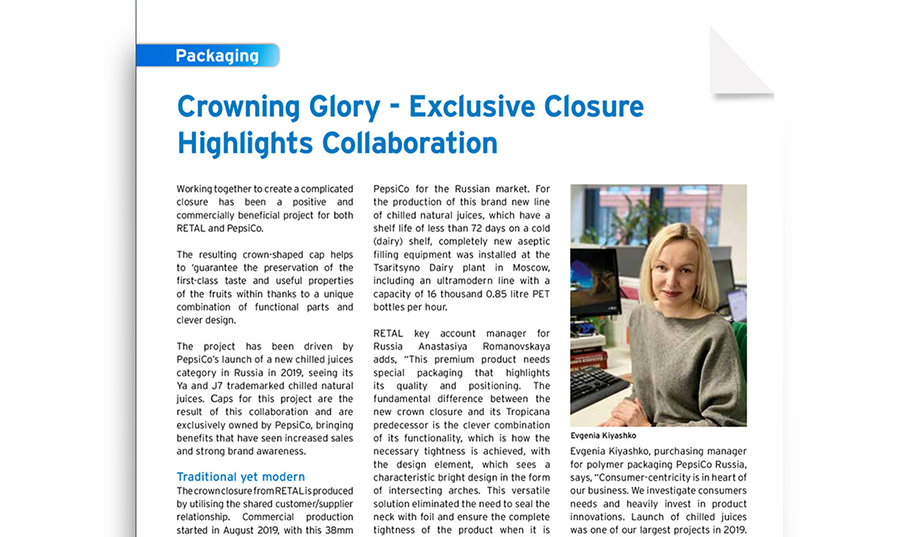 Working together to create a complicated closure has been a positive and commercially beneficial project for both RETAL and PepsiCo.  
The resulting crown-shaped cap helps to 'guarantee the preservation of the first-class taste and useful properties of the fruits within thanks to a unique combination of functional parts and clever design.  
The project has been driven by PepsiCo's launch of a new chilled juices category in Russia in 2019, seeing its Ya and J7 trademarked chilled natural juices. Сaps for this project are the result of this collaboration and are exclusively owned by PepsiCo, bringing benefits that have seen increased sales and strong brand awareness.  
Traditional yet modern  

The crown closure from RETAL is produced by utilising the shared customer/supplier relationship. Commercial production started in August 2019, with this 38mm 8.5g closure complimenting the 38mm 36g preform also supplied by RETAL to PepsiCo for the Russian market. For the production of this brand new line of chilled natural juices, which have a shelf life of less than 72 days on a cold (dairy) shelf, completely new aseptic filling equipment was installed at the Tsaritsyno Dairy plant in Moscow, including an ultramodern line with a capacity of 16 thousand 0.85 litre PET bottles per hour.  
RETAL key account manager for Russia Anastasiya Romanovskaya adds, "This premium product needs special packaging that highlights its quality and positioning. The fundamental difference between the new crown closure and its Tropicana predecessor is the clever combination of its functionality, which is how the necessary tightness is achieved, with the design element, which sees a characteristic bright design in the form of intersecting arches. This versatile solution eliminated the need to seal the neck with foil and ensure the complete tightness of the product when it is resealed, making it convenient for consumers." 
Creatively commercial 
It is these performance- and design-driven intersecting arches that help make this closure unique. Having already worked in close partnership with PepsiCo for some years, Romanovskaya and her team were committed to designing a closure solution that harnessed RETAL's deep understanding of the company and its products. She says, "Huge efforts were made on both sides to ensure that the samples requested for different tests were produced and delivered on time. We also made a commercial mold as part of the project; all in all, it was a very complicated process that required the skills of PepsiCo and RETAL's R&D teams. We truly value the shared project and the resulting sucсess of the crown closure." 
Evgenia Kiyashko, purchasing manager for polymer packaging PepsiCo Russia, says, "Consumer-centricity is in heart of our business. We investigate consumers needs and heavily invest in product innovations. Launch of chilled juices was one of our largest projects in 2019. We wanted to deliver a brand new, high quality product to our consumers and make it look really great. This required new ideas in packaging including juice closures". 
Romanovskaya concludes, "Creating a crown cap solution for PepsiCo was a fabulous challenge and one we were delighted to solve successfully and ahead of schedule. We understood that we were part of an important image project for the market leader of the juice sector in Russia and we did not have a single chance for a mistake or delay! We utilized our best resources, overcoming difficulties step by step, staying in constant contact with our injection equipment manufacturer Husky. We hope that the impressive results of this crown cap project once again prove RETAL's high quality design and service standards to PepsiCo and the market."