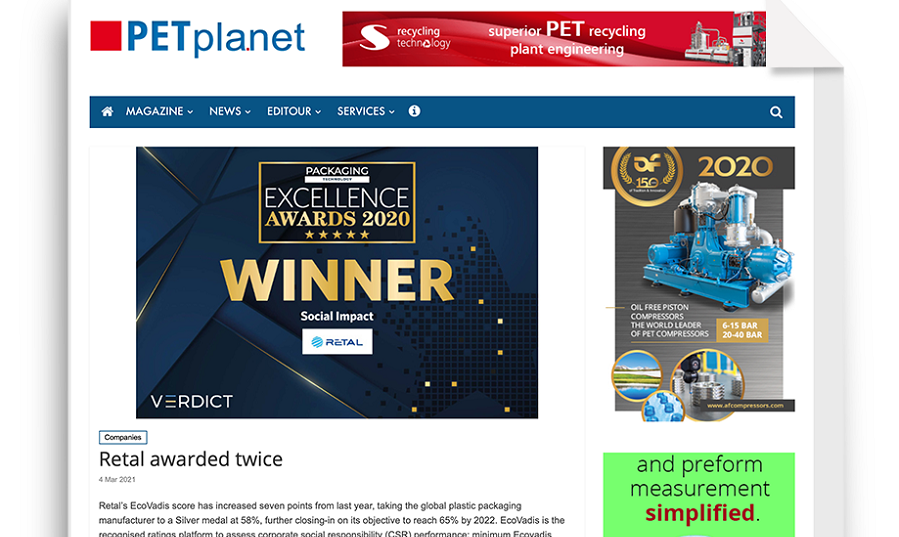 Retal's EcoVadis score has increased seven points from last year, taking the global plastic packaging manufacturer to a Silver medal at 58%, further closing-in on its objective to reach 65% by 2022. EcoVadis is the recognised ratings platform to assess corporate social responsibility (CSR) performance; minimum Ecovadis scores are increasingly demanded by multinational brand owners in order to be part of their supply chain, so it is imperative that manufacturers perform well in CSR.
Sustainability Director Emmanuel Duffaut says, "Retal is in the top 19% of EcoVadis rated companies in its sector. Staying still doesn't mean you maintain your score – you lose points. It costs a lot to even maintain your existing EcoVadis score, let alone improve it, so this seven-point increase is an excellent achievement that validates our strategy and action. Our strategic decision to implement the ISO 26000 standard by investing in a specific tool that also allows us to monitor and assess our suppliers' CSR performance has proved to be the right decision; we have particularly increased our 'Procurement' score to 60% (a 20-point increase), which puts us in the top performers in our industry in this category."
Retal has also increased its score by 10 points in the Labour and Human Rights category, by conducting a detailed Human Rights assessment and thanks to a joint action with all its regional Retal HR departments implementing anti-discrimination actions; this score is expected to improve further in the company's 2021 results in part due to a boosted performance in the Ethics category.
Read more in PetPlanet online.