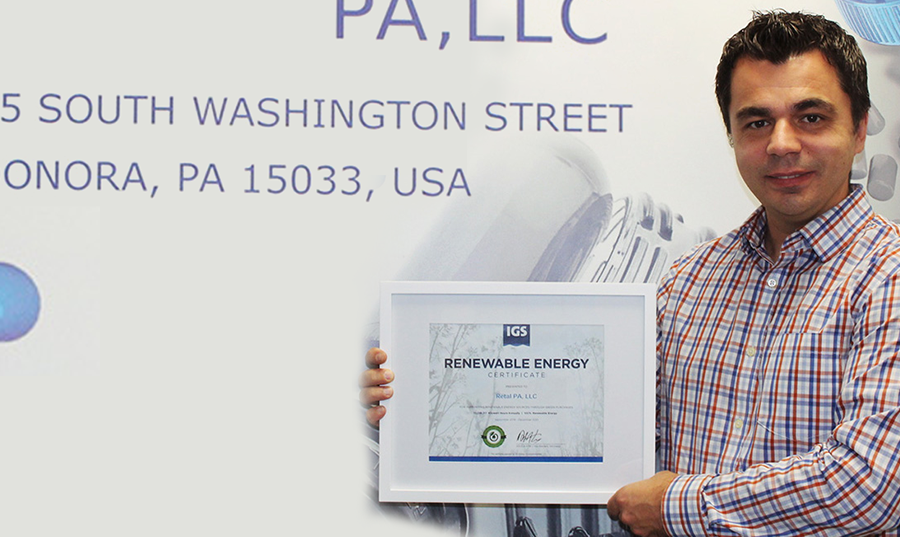 Global packaging solutions provider RETAL is taking its  sustainability ambitions one step further by committing to purchasing even more renewable energy, helping its global customers to meet their ambitious GHG (Green House Gas) reduction targets. 
RETAL PA in the US is the latest RETAL factory to join its carbon footprint reduction activities, with general manager Admir Dobraca saying it has reached an agreement with power supplier IGS Energy to provide RETAL PA with 100% renewable electricity.  
IGS Energy presented RETAL PA with a certificate to confirm that all the energy supplied to RETAL PA is guaranteed to come from renewable sources.  
RETAL's President Anatoly Martynov is encouraging the company's sustainability push to continuously reduce its carbon footprint by taking real steps to protect the environment.
Martynov explains, "RETAL has already been investing in more environmentally friendly energy solutions; our two Lithuanian facilities – which supply packaging solutions to customers across Europe and beyond -  have been buying 100% renewable energy since 2016, bringing their GHG emissions very close to zero. Globally 20% of RETAL's electricity consumption will now come from renewable sources, and RETAL is committed to increasing its purchasing of renewable energy in the future."
RETAL's sustainability director Emmanuel Duffaut is vocal in the commercial advantages of renewable energy, "Most of our main customers have pledged to fight climate change by reducing their products' carbon footprint. Packaging represents, on average, 20%-40% of the carbon footprint of our customers' products and so they expect us to help them reach their goals by reducing our own products' carbon footprint. Purchasing renewable electricity produced from wind, hydraulic, solar and biomass sources allows us to achieve this. Plus, by increasing the demand of renewable energy, we will contribute to the transition to a low carbon economy. By aligning both our and our customers' CSR goals, we can all do the right thing."