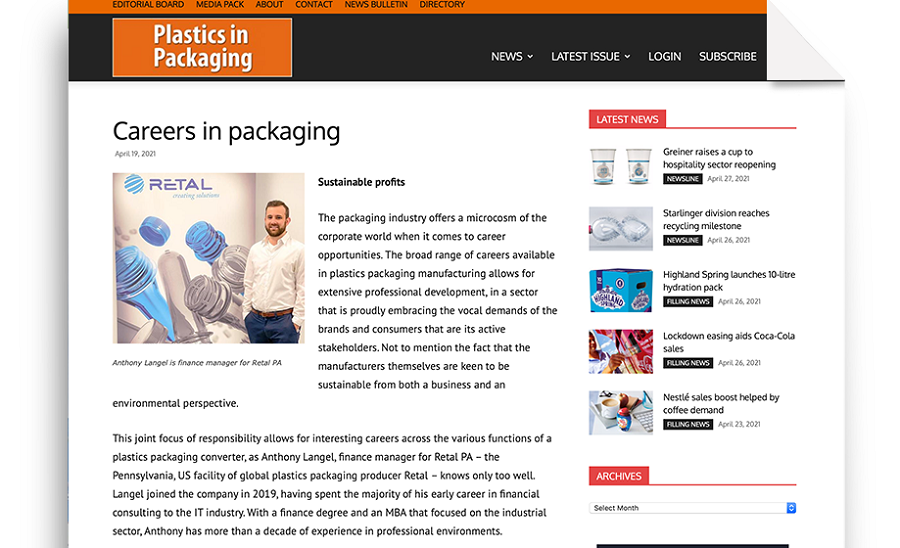 The packaging industry offers a microcosm of the corporate world when it comes to career opportunities. The broad range of careers available in plastics packaging manufacturing allows for extensive professional development, in a sector that is proudly embracing the vocal demands of the brands and consumers that are its active stakeholders. Not to mention the fact that the manufacturers themselves are keen to be sustainable from both a business and an environmental perspective.
This joint focus of responsibility allows for interesting careers across the various functions of a plastics packaging converter, as Anthony Langel, finance manager for Retal PA – the Pennsylvania, US facility of global plastics packaging producer Retal – knows only too well. Langel joined the company in 2019, having spent the majority of his early career in financial consulting to the IT industry. With a finance degree and an MBA that focused on the industrial sector, Anthony has more than a decade of experience in professional environments.
But what made him move into the packaging industry? "My initial finance career developed through consulting for small businesses that did not have their own financial department, which gave me a great insight into all aspects of finance for commercial operations as well as a real 'in at the deep end' experience! I valued the chance to learn quickly and to speak directly with the people at the head of the businesses I was consulting for, as this meant I saw the workings of a range of types of company, from real estate to construction, to industrial."
This close contact with decision makers has given Langel the chance to see how businesses can be more profitable, and how to action that in practical ways. He explains: "I have an affinity for cost accounting; revenue vs net costs, gross margin issues…lots of businesses can look at the money they're bringing in without looking at the value. For example, with one client I realised that they were paying a per diem on payroll for armed security guards, yet this brought with it additional costs of insurance and added risk, and yet the need for armed security was not necessary. I like to find real world examples of how money is being spent and analyse if that is the most effective way; where figures cross over with value."
Langel initially contacted Retal after seeing a job advert for a finance manager that he only had seven of the requisite 10 years' experience for. Although not initially called for interview, the HR manager saw his clear career progression and set up an interview for a position when the previous finance manager left.
"I feel like we both benefited as I was able to show how keen I was to be part of a global business and the HR manager could see that I was positive and ready to learn more about the specifics of their business," adds Langel.
Read online at Plastics in Packaging