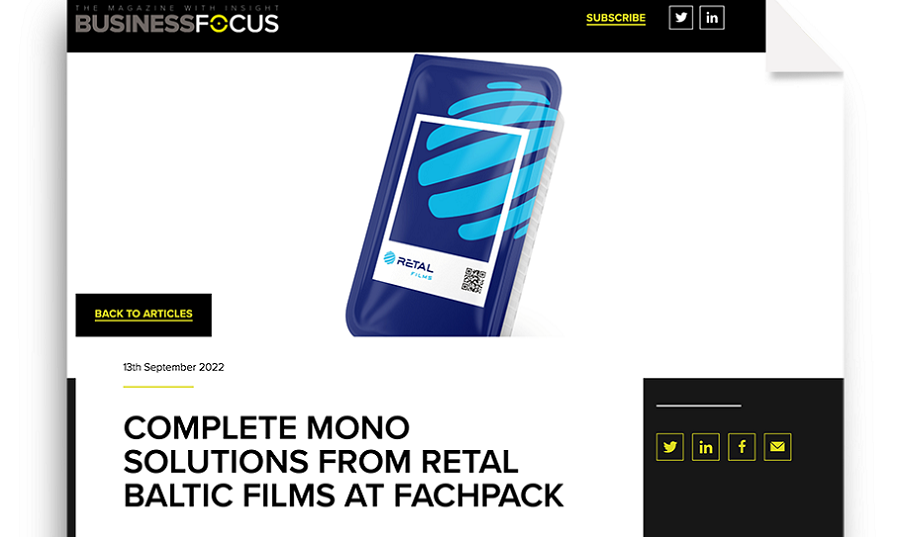 RETAL Baltic Films offers full mono solutions of APET rigid and top lidding films, with performance analysis for customers.  
The decision to promote RETAL Baltic Films as a dedicated company with its own website coincides with its increased portfolio in flexible and rigid films, thanks to considerable investment at its Klaipeda, Lithuania location, including sales increasing by 100% over the last five years. 
Viktorija Griziene, General Manager, RETAL Baltic Films, says, "RETAL has long been a well-known name in rigid packaging across the Baltic region, and we have been increasingly adding to our flexible film capabilities in recent years. Now, RETAL Baltic Films has our own website, and we can highlight how our place in the stable RETAL Group is perfectly complemented by our nimble approach to flexible film packaging development."
RETAL Baltic Films will be participating at Fachpack, the European trade fair for companies that produce and use packaging, held in Nuremberg, Germany from 27 – 29 September, and Scanpack in Sweden from 4 – 7 October. The team of rigid and flexible film experts will be on hand to talk through its latest sustainable solutions for recyclable high barrier films in APET for top lidding and high barrier mono Form-Fill-Seal laminate, planned investments, and to share how the complete assessment of top lidding and bottom tray is of great value to customers. 
Visit RETAL Baltic Films at Fachpack, Hall 7, stand 7-259, and at Scanpack stand number D03:37 
See RETAL Baltic Films' new website at www.retalfilms.com 
For further information, contact info@retalfilms.com 
Read online at Business Focus
Read / download in PDF