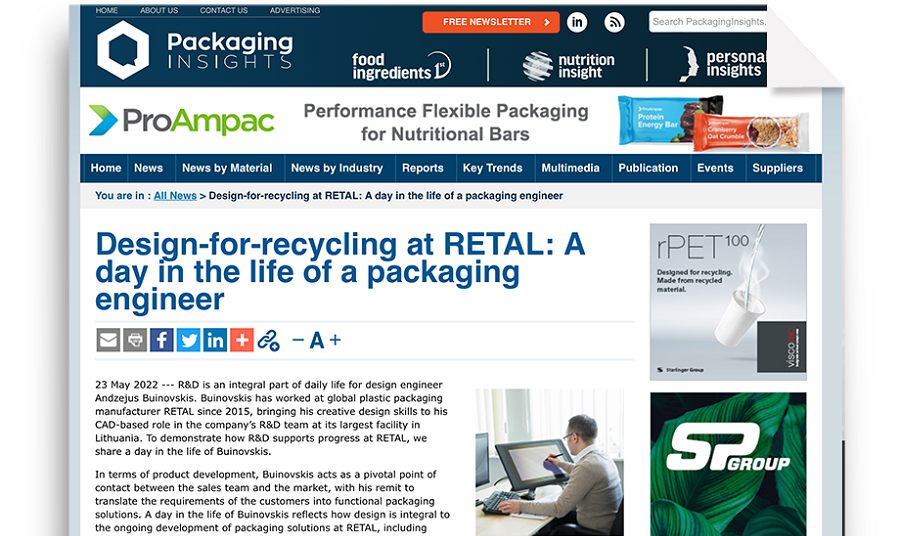 R&D is an integral part of daily life for design engineer Andzejus Buinovskis. Buinovskis has worked at global plastic packaging manufacturer RETAL since 2015, bringing his creative design skills to his CAD-based role in the company's R&D team at its largest facility in Lithuania. To demonstrate how R&D supports progress at RETAL, we share a day in the life of Buinovskis. 
In terms of product development, Buinovskis acts as a pivotal point of contact between the sales team and the market, with his remit to translate the requirements of the customers into functional packaging solutions. A day in the life of Buinovskis reflects how design is integral to the ongoing development of packaging solutions at RETAL, including evolving tethered closure options, lightweighting and integrating environmental sustainability at every stage.
Buinovskis generally starts his day by checking what online meetings are scheduled to understand what new information may be forthcoming. A regular participant in meetings for various teams throughout the company, Buinovskis's input is valued by the sales, NPD, communications and sustainability departments.
Read full article online at Packaging Insights 
Read / download in PDF