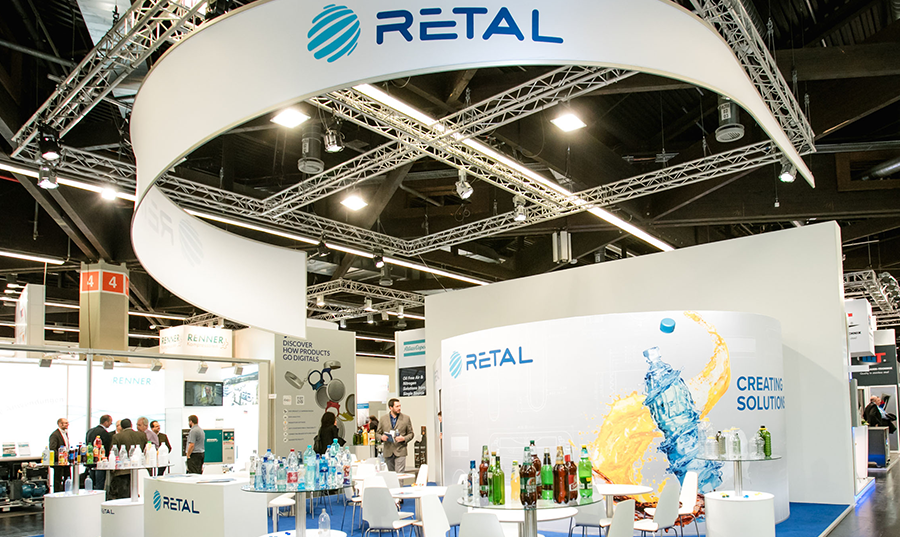 BrauBeviale has proved the perfect platform for RETAL to share its latest developments, with the multi-lingual team enjoying useful conversations with customers and potential partners.
RETAL presented the company's unique High Grip closure which is now in mass production for a world leading beverage brand and various local brands. High Grip uses the new lighter 1881 PCO standard, saving about 1.3g per bottle, yet retains the convenient overall bottle height of the 1810 PCO because of the taller cap. The new closure is easy to open, not only because of the distinctive grooves, but also because it retains its rigidity due to the height. Co-packers can also continue to use existing stacking trays designed for 1810 specifications. The High Grip eliminates the height difference of bottles and clocks in at a nominal weight of 2.45g – with production volume expected to reach 140 million units by the end of 2018.
Jean-Noel Boursiez, RETAL Closures Sales Director explained, "We worked closely with the market-leader bottle filling company to create a functional solution that delivers high market acceptance thanks to its consumer-friendly attributes such as being easy to open and grip."
RETAL also presented its latest container development for Danone. RETAL created a new 160ml PET thermostatic jar that is crucial to the marketing strategy of this dairy giant's new yoghurt product – with RETAL's 250ml version already winning the Danone 'Best Innovative Partner' supplier award in Moscow in 2016.
Beverage packaging expert, RETAL Group R&D Anton Sugoniaev said, "We work with Danone across all our factories in Russia, providing them with preforms and closures; we are their largest supplier, so it's a very important customer for us and an important relationship for us both. Our packaging solution is for a heritage yoghurt product that is a true embodiment of Russian family traditions, so we were excited for the challenge to work together on this important innovation."
Congratulations on a successful BrauBeviale from everyone at RETAL.
Follow us on LinkedIn