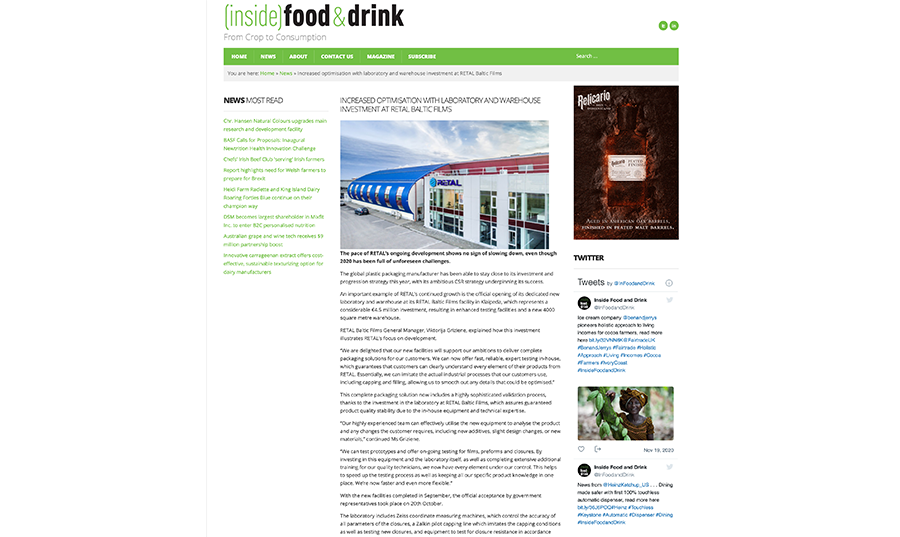 The pace of RETAL's ongoing development shows no sign of slowing down, even though 2020 has been full of unforeseen challenges.
The global plastic packaging manufacturer has been able to stay close to its investment and progression strategy this year, with its ambitious CSR strategy underpinning its success.
An important example of RETAL's continued growth is the official opening of its dedicated new laboratory and warehouse at its RETAL Baltic Films facility in Klaipeda, which represents a considerable €4.5 million investment, resulting in enhanced testing facilities and a new 4000 square metre warehouse.
RETAL Baltic Films General Manager, Viktorija Griziene, explained how this investment illustrates RETAL's focus on development.
"We are delighted that our new facilities will support our ambitions to deliver complete packaging solutions for our customers. We can now offer fast, reliable, expert testing in-house, which guarantees that customers can clearly understand every element of their products from RETAL. Essentially, we can imitate the actual industrial processes that our customers use, including capping and filling, allowing us to smooth out any details that could be optimised."
This complete packaging solution now includes a highly sophisticated validation process, thanks to the investment in the laboratory at RETAL Baltic Films, which assures guaranteed product quality stability due to the in-house equipment and technical expertise.
"Our highly experienced team can effectively utilise the new equipment to analyse the product and any changes the customer requires, including new additives, slight design changes, or new materials," continued Ms Griziene.
Read more at insidefoodanddrink