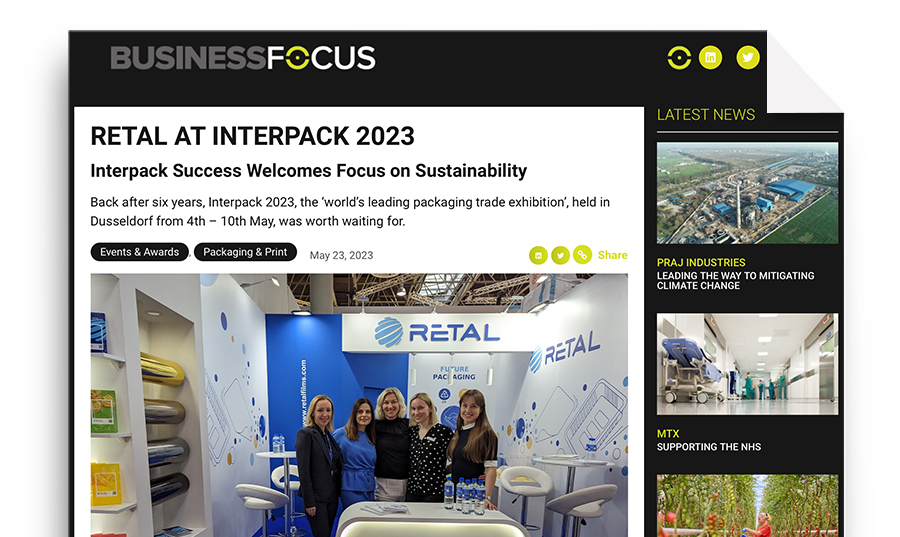 Back after six years, Interpack 2023, the 'world's leading packaging trade exhibition', held in Dussedorf from 4th – 10th May, was worth waiting for.  
The RETAL stand featured a wide range of product samples from across the complete range of flexible and rigid solutions from RETAL Baltic Films, with members of the sales team on hand to answer any questions.  
Visitors to the stand enjoyed talking to the RETAL packaging experts, with wide-reaching conversations including questions on sustainability, recyclability, and chemical recycling.  
Senior Marketing Manager Maria Jarrar says, "There was a friendly atmosphere at Interpack – everyone seemed happy to be back after such a long break. We were pleased to take the opportunity to answer questions, share samples of our rigid and flexible packaging solutions, and meet customers and potential customers. It was interesting to discuss topics including mono high barrier solution for FFS packaging and our 100% rPET rigid film and chemical recycling project. It was clear that sustainability is still the hot topic, with everyone keen to ask about how we're making our portfolio as responsible as possible." 
Read online at Business Focus
Read / download in PDF