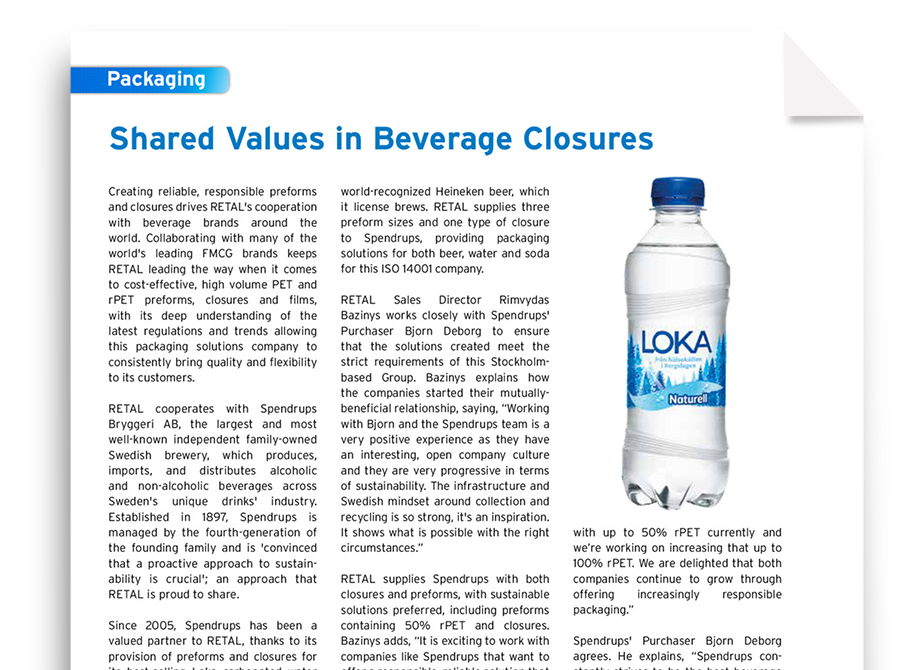 Creating reliable, responsible preforms and closures drives RETAL's cooperation with beverage brands around the world. Collaborating with many of the world's leading FMCG brands keeps RETAL leading the way when it comes to cost-effective, high volume PET and rPET preforms, closures and films, with its deep understanding of the latest regulations and trends allowing this packaging solutions company to consistently bring quality and flexibility to its customers.
RETAL cooperates with Spendrups Bryggeri AB, the largest and most well-known independent family-owned Swedish brewery, which produces, imports, and distributes alcoholic and nonalcoholic beverages across Sweden's unique drinks' industry. Established in 1897, Spendrups is managed by the fourth-generation of the founding family and is 'convinced that a proactive approach to sustainability is crucial'; an approach that RETAL is proud to share.
Since 2005, Spendrups has been a valued partner to RETAL, thanks to its provision of preforms and closures for its best-selling Loka carbonated water brand, which is the market leader in carbonated water in Sweden, and the world-recognised Heineken beer, which it license brews. RETAL supplies three preform sizes and one type of closure to Spendrups, providing packaging solutions for both beer, water and soda for this ISO 14001 company.
RETAL Sales Director Rimvydas Bazinys works closely with Spendrups' Purchaser Bjorn Deborg to ensure that the solutions created meet the strict requirements of this Stockholmbased Group. Bazinys explains how the companies started their mutually-beneficial relationship,
saying, "Working with Bjorn and the Spendrups team is a very positive experience as they have an interesting, open company culture and they are very progressive in terms of sustainability. The infrastructure and Swedish mindset around collection and recycling is so strong, it's an inspiration. It shows what is possible with the right circumstances."
Read the full version on Drinkworld Technology & Martketing