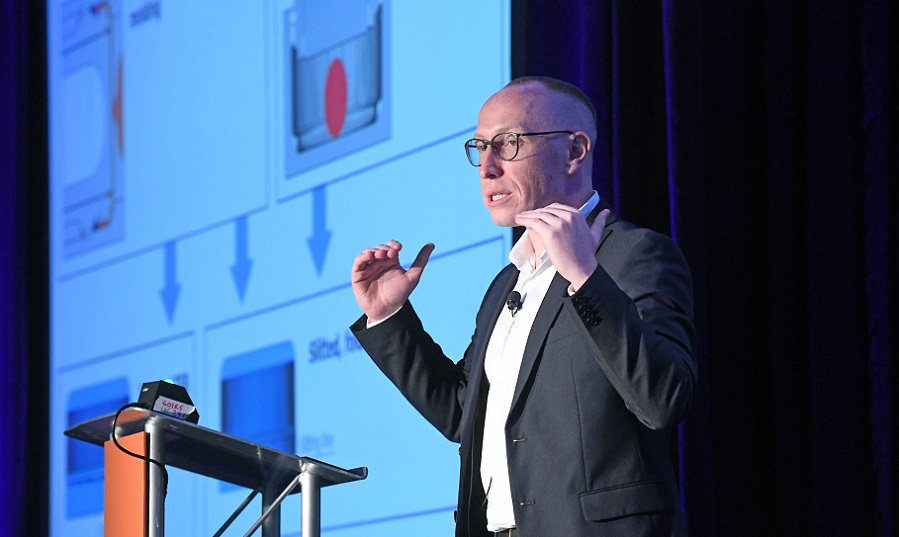 The multinational sales team from plastic packaging producer RETAL was out in force at the recent Plastics News Caps & Closures speaker event in the US.  
Held in Schaumburg, Illinois, the prestigious event, hosted by the world's leading online and print magazine for the plastics industry Plastics News, took place from 19 – 21st September 2022, with over 1500 participants.  
RETAL's sales director for Europe and the US Vitaly Lavrinenko and key account manager Gennadiy Khmelevskiy presented to a packed audience, with the subject 'Staying Ahead of Legislation – Caps & Closures for Global Beverage Brands'.  
The presentation started with details of the impending EU legislation regarding the requirement for all single-use containers of over three liters to have closures that stay attached, explaining how RETAL has developed closures in-house to ensure all its customers are in line with the new rules.  
A mineral water bottle made with NEOPET Cycle (PET resin with 30% rPET integrated into the flakes produced by sister company NEO Group) and tethered closure produced by RETAL in Europe was used to demonstrate how the combination works. Lavrinenko and Khmelevskiy continued to explain how the R&D behind the development was achieved, notably sharing how close cooperation with global customer requirements were met alongside the EU Directive.  
Following the 20-minute presentation, the RETAL team took a wide range of questions from the floor, with both noting that the audience asked many pertinent questions, highlighting that the dynamic US market is considering the potential realities of implementing tethered closures both to stay ahead of possible legislation and to support global brands in achieving their own ambitious sustainability targets.