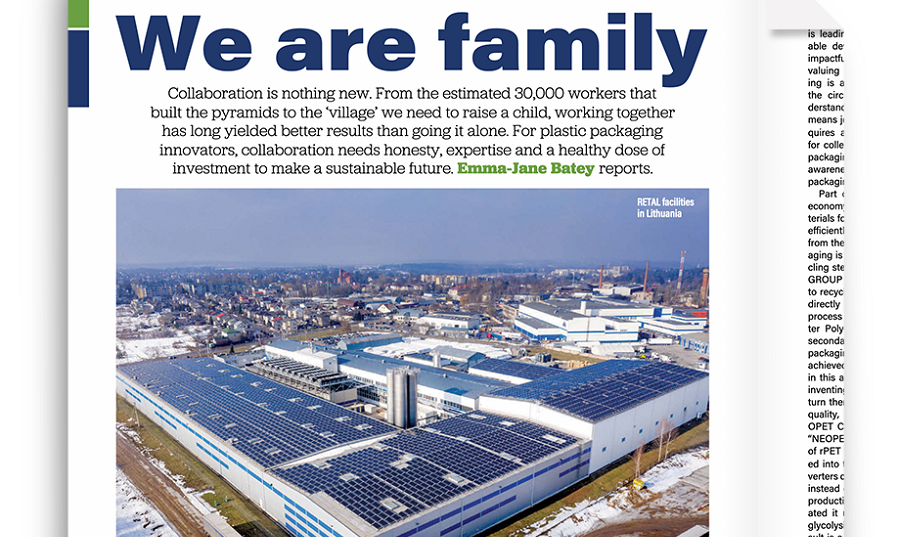 Collaboration is nothing new. From the estimated 30,000 workers that built the pyramids to the 'village' we need to raise a child, working together has long yielded better results than going it alone. For plastic packaging innovators, collaboration needs honesty, expertise and a healthy dose of investment to make a sustainable future. Emma-Jane Batey reports.
No plastic packaging manufacturer is an island. Raw materials, design engineering, project management, testing...the list of hoops to jump through is exhausting and necessary. The entire value chain needs to be robust and reliable so each player can successfully carry out their role. With the unstoppable importance of the circular economy ensuring that each player must increase their CSR performance, it shows why collaboration is king.
Vertical integration within global manufacturing companies allows for collaboration that goes beyond tenders, as the connected companies can have speedy communication and a shared understanding of common goals. NEO GROUP is a Lithuania-based PET resin producer that is part of global plastic packaging solutions manufacturer RETAL Industries Ltd; the sister companies work closely where necessary to ensure that a reliable supply of raw materials is available, bringing collaboration to life with an innovative fully circular PET resins containing 25% of recycled PET (rPET).
Justina Volcek, Product Development Specialist at NEO GROUP, explains, "In talking to our colleagues at RETAL, as well as other global customers, it was clear that a joined-up approach to developing, producing and supplying a reliable rPET resin solution could add real value to the overall plastic packaging supply chain. We have been focused on positively contributing to closing the loop for some time and RETAL has the same goal. In early 2018 we started seriously talking about the implications of the EU SUP Directive, where 25% of recycled plastic must be present in all PET beverage bottles by 2025, and this was closely connected to our research work in accordance with the Horizon 2020 programme. We were actively checking what solutions were available on the market and we realised that our unique contribution could be to add a reliable percentage of rPET directly into the resins that we produce, allowing for converters to use their existing equipment without investing into new one and at the same time to meet the changing regulations."
These regulations are changing because plastic packaging is leading the way in sustainable development, with many impactful studies showing that valuing used plastic packaging is a huge opportunity for the circular economy. By understanding that collaboration means joined up thinking, it requires adequate infrastructure for collecting and sorting used packaging as well as raising awareness of how we treat used packaging.
Part of an effective circular economy is about how raw materials for plastic packaging are efficiently utilised, so that right from the first step, plastic packaging is responsible. First recycling steps were taken by NEO GROUP in 2011, when it started to recycle residual PET coming directly from the production process into Aromatic Polyester Polyols (APP). In terms of secondary post-consumer PET packaging, NEO GROUP has achieved a real breakthrough in this area from 2017-2020, by inventing its own solution to turn them back into new, same quality, PET resins called NEOPET CYCLE. Volcek explains, "NEOPET CYCLE includes 25% of rPET flakes directly integrated into the virgin PET, so converters can use just one product instead of two or more in their production process. We've created it using a type of gentle glycolysis process and the result is a food-grade resin that's available at industrial volumes."
What is worth mentioning that the technical preconditions for the latter innovation were created by the technology of polyol production, which was developed more than a decade ago. Volcek adds, "One of the keys to both of our innovations – NEOPET CYCLE and polyol production - is the preparation of raw materials by glycolysis process."
Read full version at Sustainable Plastics
Read / download the article in PDF