RETAL ACHIEVES GLOBAL BRAND QUALITY CERTIFICATION
RETAL's largest closures production facility has been rewarded for its focus on consistent quality, continuous innovation and ongoing investment with an industry-recognised quality assurance certification from one of the world's most famous beverage brands.
This Certification Program is widely acknowledged as an industry standard for packaging manufacturers, rewarding reliable and quantifiable quality through approved high-level testing and evaluation of trusted global suppliers.
RETAL's state-of-the-art facility in Lithuania serves Europe with a wide range of closures and films. This quality certification has been specifically awarded to the plant's R&D laboratory for the manufacture of plastic closures.
On the 8th December 2017 the leading global drinks brand awarded RETAL the certificate, which is valid for five years. It represents the ongoing RETAL focus on delivering multi-national quality control for its customers by providing them complete packaging solutions and proven service. As one of very few European packaging manufacturers to be given this certification, RETAL is proud to work to the strict standards this demands.
Dr. Naglis Svickus, Quality Manager for RETAL Baltic, says, "This certification is a great representation of RETAL's commitment to quality and rigorous testing, as well as recognition of our investment in the latest equipment."
The investment saw RETAL purchase advanced testing equipment, including the highly-respected precise geometry measurement O-Inspect device from Zeiss. Svickus adds, "We are able to skillfully perform measurement testing both by the contact method and optically. RETAL closures deliver verifiable and reliable results and this certification is our guarantee.
JOIN RETAL AT NPE2018: THE PLASTICS SHOW
RETAL is pleased to announce its participation at NPE2018: The Plastics Show on May 7-11, 2018, in Orlando, Florida. RETAL welcomes visitors to stand S14059 in the Bottle Zone to share its latest packaging solutions across an extensive portfolio of preforms, closures, containers and films. RETAL is keen to understand the needs and challenges of customers and can even prepare a customized offer for your business at the show.
RETAL TO INSTALL SOLAR PANELS ON FACTORY
RETAL Lithuania will install solar panels on the roof of its factory buildings following its successful grant from European Union Structural Funds, with the construction completing in 2018.
The panels will be installed on RETAL's administration, warehouse and production buildings in Lentvaris, LT, covering an area of 15,000 m2 – making this the largest solar roof project in Lithuania to date. The panels are expected to meet the yearly electricity demand of the administration and warehouse buildings by generating over 1,200 MWh per year.
Giedrius Viederis, General Manager of RETAL Lithuania, comments, "This technology fits perfectly with our responsible approach to the environment, and we expect our customers will appreciate that the zero CO2 energy from the solar panels will contribute to producing their products."
RETAL Lithuania is implementing the project 'Solar power plant by RETAL Lithuania' (project identification code No. 04.2.1-LVPA-K-836-01-0028) under the Operational Program for the European Union Funds' Investments in 2014-2020 priority axis 4 'PROMOTING ENERGY EFFICIENCY AND PRODUCTION AND USE OF RENEWABLE ENERGY' measure No. 04.2.1-LVPA-K-836 "Renewable Energy Sources for industry LT+"
RETAL IS THE BEST SUPPLIER FOR COCA-COLA IN 2016
The annual, ninth competition among suppliers, held by COCA-COLA HBC RUSSIA in Moscow museum park Ethnomir on April 18, has become most ambitious since the establishment of the award. The main objective of the competition was to encourage and support best COCA-COLA partners. The winner of 2016 has been chosen among more than 5000 companies. In addition to the traditional selection criteria – the highest quality of delivered products and services – the principles of sustainable development of partners in business, as well as the efficiency and innovative component in their work have been adopted. As a result of such an acute and complex evaluation, RETAL company has acquired the grand prix for "Best Supplier-2016".
The main prize from the No.1 worldwide brand in the market of carbonated beverages has become a fair result of a long-term cooperation between RETAL and COCA-COLA.
The first steps to achieving the Grand Prix in 2016 have been already made three years ago, when RETAL has launched its strategical task for reducing the weight of primary packaging. Owing to such work during 2013-2016 and a subsequent weight and preform thickness reduction, more than 4600 tons of PET-granulate has been saved, and the share of secondary raw materials in packaging increased almost 6-fold. This has made the business of both companies more advanced, environmentally friendly and responsible.
RETAL HAS SUCCESSFULLY ENTERED THE MARKET OF BEER PET KEGS
One of the principles RETAL works on is to promptly respond to the market requests for PET packaging.
Likewise, an upward trend in the global restaurant industry - the use of modern disposable PET-containers of large volumes – was not neglected. RETAL has started production of preforms for blowing the disposable PET kegs for tanks of 20 and 30 liters.
The increasing popularity of this type of packaging throughout the world is quite explainable and well deserved. A disposable plastic keg is suitable for use in the most common filling systems of Pegas. It is convenient for transportation of beer, kvass (effervescing drink made of water, berries, fruits, or honey), lemonades and low-alcohol cocktails, and has a number of undeniable advantages. In this way, a disposable PET keg, while meeting all the necessary environmental and safety standards, is much lighter and more economical. Its use excludes a whole chain of costly stages in the turnover of containers, such as their return, washing and storage.
The development of this promising market segment has started for RETAL within the production facilities of its Russian enterprise, with especial care for the quality of components for this new type of products and a smooth distribution. The partner for the project and the supplier of fittings for PET kegs in Russian market is PET-Expert company. RETAL products differentiation in form of PET kegs strengthens its position significantly in the beer segment.
For the business of established customers of RETAL, the new producer proposal also offers excellent opportunities for development. High quality of products and their innovative advantages are able to ensure a consistently high demand in this market from the side of regular partners, and helps attract new customers.
RETAL intends to promptly roll out and advance the successful experience - PET preforms for 20 and 30-liter disposable kegs are planned to be produced at other sites of countries of operation in the nearest future.
RETAL LITHUAINA IS THE BEST EXPORT-ORIENTED COMPANY OF THE REGION (AS THE RESULT OF 2016)
The ceremony of awarding the best companies in the region in 2016 was organized by Vilnius Chamber of Commerce, Industry and Crafts (Vilnius CCIC) on December 8. As the result of competition, Lithuanian company of RETAL was included in the winners list.
Vilnius CCIC is the largest Chamber of Commerce in Lithuania. Management of this organization brings together its members annually to summarize the outcome, and encourages the best representatives of the business community who have made the greatest contribution to the development of the region and the country's economy.
This year, UAB RETAL Lithuania has been recognized as the best export-oriented com-pany in the region. The company has successfully been producing PET preforms in Lith-uania since 1997, and it involves about 200 employees in the modern plant in Lentvaris.
The traditional award of CCIC, the statuette of the Roman god of trade, Mercury, was presented to Giedrius Viederis, the General Director of UAB Retal Lithuaina, in the presence of Evaldas Gustas, Minister of Economy in Lithuania, Šarūnas Kliokys, Association of Lithuania Chambers of Commerce, Industry and Crafts president, Dr. Almantas Danileviči-us, CCIC president, Vilnius authorities representatives, and top management of leading companies in the region.
The jury members, CCIC management and distinguished guests paid tribute to the successful annual performance of UAB Retal Lithuania export and to the importance of pres-ence in the region a major manufacturer of modern and technologically advanced con-tainers and packaging.
RETAL, AWARD WINNER IN PLASTICS OF RUSSIA
2016 has become very productive for RETAL. Upon receiving the DANONE international awards as well as success at "BRAU Beviale" and "ALL4PACK" international trade fairs, the company won Business Heavyweights award at Plastics of Russia, the 9th annual industry forum for the second time.
Plastics of Russia forum is an annual meeting held in Moscow to bring the key players of the plastics market in CIS together. Apart from exchanging experience, forum organizers prioritize the process of rewarding dynamically developing companies that identify their excellence in contributing to the growth of industry's strategic framework. In this respect, RETAL gained its recognition.
RETAL wins this prestigious award not for the first time. In 2013, the company gained Business Heavyweights award due to the impact of activities regarding the employment, cash flows, several social and environmental projects implemented.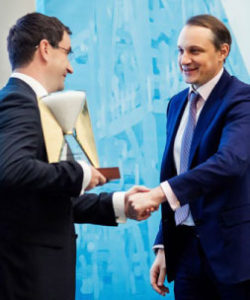 In two years, RETAL appeared among the awarded recipients again. This year the suppliers and leading manufacturers of basic polymers selected the top plastics companies that met the requirements of the market. They gave their preference to RETAL as the leading PET recycling company in the nominated segment, called PET Recycling. Innovative projects in packaging field, implemented by RETAL this year, received a special attention.
In 2017, RETAL aims at further strengthening its position in PET recycling, including improving their corporate policy in sphere of ecology and corporate social responsibility
ALL4PACK-2016: RETAL HAS PRESENTED THEIR PRODUCTS AT THE EXHIBITION IN PARIS
The international exhibition ALL4PACK-2016 took place in Paris from 14 to 17 November. It becomes a major industry event for producers of packaging technologies, equipment and materials every second year. RETAL participated in this specialized forum for the first time.
ALL4PACK is gathering pace with each new event. This year, the total number of participants exceeded 90 thousand. Exhibition organizers have increased exhibition space specially for ALL4PACK-2016, and the forum's slogan was Let's be creative.
RETAL modernized stand was totally able to fully comply with a given concept. The latest development of the company - containers for dairy products (their success has been recently highlighted by award from DANONE), stirred a particular interest.
Through participation in ALL4PACK, RETAL presented their products to more than 400 potential clients from Benelux countries, France, Southern Europe and North Africa.
RETAL PRODUCTS AT BRAU BEVIALE-2016
RETAL traditionally became a participant of the largest European BrauBeviale exhibition for the beverage industry, which took place in Nuremberg in November. This year RETAL presented an updated product range to their European colleagues.
BrauBeviale exhibition has been regularly held since the late 70s of the last century, with its scale growing every year. In 2016, BrauBeviale has set another record by hosting in three days about 38 thousand specialists from all areas of the beverage industry: distributors, suppliers, manufacturers of equipment, technologies, services, raw materials, packaging materials and finished beverages. Most of participants are companies from Northern, Central and Eastern Europe.
RETAL stand enjoyed great popularity among other 1300 exhibitors. Exhibition guests appreciated the stylish futuristic design of the site. RETAL brought to Germany the whole range of their products - preforms, caps, and containers. New developments of the company were of a particular interest among the visitors: containers for dairy packaging and the cap 1881 Xlight SF. By the way, the latter has been already actively used by European partners as a modern solution on the market of packaging of carbonated beverages.
RETAL has been constantly improving in promoting their brand and reputation, therefore the preparation for the next BrauBeviale has already begun.
RETAL HAS BEEN RECOGNIZED AS THE BEST INNOVATIVE PARTNER FOR DANONE
RETAL has been recognized as "The best innovative partner for DANONE"
RETAL has won "The best support for innovative projects nomination" at a DANONE Supplier Day, held at Moscow School of Management Skolkovo on October, 26.
With this event, a world leading corporation in dairy products has decided to encourage the achievements and wins of its partners in promising regional markets of the CIS countries. Over 40 DANONE-partner companies competed for 16 nominated awards.
It is particularly important for DANONE, as an investor in research and modernization of healthy food production, to implement innovative and up-to-date methods in business processes.
As Bernard Ducros, CEO and Vice President of Fresh Dairy Products Division in Russia and CIS countries, said, "Thermostat product line was selected as the largest innovation project which, on the one hand, is an old traditional method of fermentation directly in a jar with the preservation of natural fermented milk clot and, on the other hand, is yet unusual and innovative for the emerging markets."
RETAL's triumph became a result of the management decisive actions, with the line reconstruction investments over €2 million, as well as with a high level of a teamwork in all phases of the project - from planning and training new technologies to the company staff, to the successful products marketing.
RETAL project objectives included a full cycle: from a design concept and a selection of the most effective technology for this type of packaging, to production tests and industrial batches, and to the financing of the project, and full service and technical support of the partner.
Experts collaboration led companies to a double success: to the victory in a prestigious contest and, of course, to the main accomplishment – a market entering with an innovative and commercially successful product. We congratulate our colleagues with a well-deserved award and thank our partner, DANONE company, for the cooperation and appreciation of our company!